If you're in the market for an electric skateboard, you're probably wondering which is the right one. This blog will look at one of the biggest electric skateboard brands and look at which is the best electric skateboard for carving.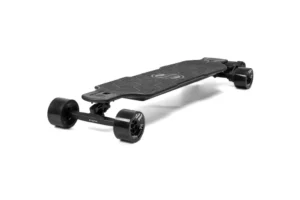 Electric skateboards are a beneficial way to get from A to B. They are easy to use and can handle most terrains. The boards come with several different specifications which can be confusing. This is why this blog will help you with the best electric skateboard for carving.
Skateboards are always there for us. There are times when we feel like getting out and just skating around. There are different types of skateboards out there and those who are looking for the best electric skateboard for carving know how to go about it.
How Do You Carve On An Electric Skateboard?
Carving on an electric skateboard involves using weight shifts and subtle movements to turn and control the direction of the board. Here are some steps to help you carve on an electric skateboard:
Start slow: Begin by riding your electric skateboard at a slow speed, as this will give you time to adjust your balance and get used to the movements required for carving.
Shift your weight: To initiate a turn, shift your weight in the direction you want to go. For example, if you want to turn right, lean to the right side of the board.
Use your back foot: Your back foot is used to control the direction of the board. By shifting your weight and adjusting the position of your back foot, you can steer the board in the desired direction.
Keep your front foot steady: Keep your front foot in a neutral position and use it to balance yourself, rather than steering the board.
Practice: Carving takes time and practice to master. Start by making small turns and gradually increase the radius of your turns as you gain confidence and control.
Adjust the board's settings: Some electric skateboards have adjustable settings that can affect the board's responsiveness and stability. Experiment with different settings to find what works best for you and the type of riding you are doing.
Remember to always wear appropriate protective gear when riding an electric skateboard and be cautious when carving, as it can be more challenging than riding in a straight line.
Best Electric Skateboard For Carving 2023
Riding a skateboard has been a popular way to get around for decades. Now with the introduction of electric skateboards, riders can extend their range, go even faster, and have more fun. We will look at some of the pros and cons of riding electric skateboards and review some of the best options on the market.
The demand for electric skateboards has increased a lot in recent years. Skating is a hobby that a lot of people love and there are some who don't have the money to buy a car. In this case, electric skateboards offer the best alternative. These are the best electric skateboard for carving.
Best Electric Skateboard For Carving | Comparison Table 2023
Top Quality | 5- Star Picks | Great Prices
Prices and images pulled from the Amazon Product Advertising API on:
Best Electric Skateboard For Carving | Reviews 2023
Product Overview:
The Skatebolt Tornado II Electric Skateboard is an upgraded version of its predecessor, offering improved performance and features. With a 7500 mAh battery, the electric skateboard can cruise up to 21-24 miles in medium mode and reach speeds of up to 26 mph, allowing for convenient daily commuting. The dual motors are strong enough to handle a 25% steep hill. The board is made of 8 layers of northeast maple, making it durable and sturdy enough to support a weight of up to 280 lbs. The wheels and deck are also wider for a smooth and stable ride.
For safety, the skateboard is equipped with two red warning taillights that blink when the brake is held. The remote controller is designed with an LCD screen display, allowing for easy monitoring of speed modes, battery capacity, and brake mode. It also has an LED button for access to the cruise control and taillight function.
The Skatebolt Tornado II is approved with certifications including EMC, FCC, LVD, and ROHS, and comes with a 6-month warranty. The company offers repair services through a support center located in LA. With its cost-effectiveness, high performance, and multiple functions, the Tornado II is the best-selling electric skateboard of Skatebolt and a great choice for those seeking an easier and more mobile lifestyle.
Check Price
Product Overview:
Check Price
Product Overview:
The Backfire G2 Black Electric Skateboard is a high-performance electric longboard designed for both adults and teenagers. With a top speed of 24mph, it is one of the best entry-level electric skateboards in the market. The board is equipped with a 400w hub motor and a digit screen remote controller, allowing for smooth and efficient rides.
The range of the board is 11-12.5 miles, which is ideal for short trips, and it can support a maximum load of 240 lbs. The board is also fitted with 7-inch front and back trucks, providing an extraordinary carving experience and improved stability at high speeds.
Additionally, the 96mm big wheel is a classic size and can easily surmount obstacles while keeping the board close to the ground. Backfire provides excellent after-sales service, including a 180-day limited warranty from the date of purchase for manufacturing defects. Overall, the Backfire G2 Black Electric Skateboard is a reliable and fun way to travel for people who want an electric longboard for casual riding.
Check Price
Product Overview:
The Blitzart Hurricane Electric Longboard is a top-of-the-line electronic skateboard that provides a thrilling riding experience. With a maximum speed of 17 MPH and a range of up to 10 miles, it is powered by a 36V and 4.4Ah Lithium-Ion battery pack that can be fully charged in just 2.5 hours. The board features a 6-ply maple wood deck sandwiched between 2 layers of bamboo, providing both flexibility and sturdiness. The deck also has premium grip tape and is concave, ensuring the rider's feet remain firmly in place while riding. The board is able to support a weight of up to 250 lbs.
The Hurricane Electric Longboard comes with an ergonomic wireless remote that controls acceleration and deceleration, has two-speed modes for beginner and advanced riders, and even has a hold function to assist in getting on and off the board. The remote control is rechargeable and comes with a wrist strap for added convenience.
In addition to its impressive speed and range, the board also features a 350W brushless hub motor. The hub motor provides a more reliable and less problematic riding experience compared to belt-driven motors. It also gives the board a sleek appearance and is much quieter than belt-driven motors. Best of all, the board can be ridden like a regular board with or without a battery, making it a versatile option for riders of all skill levels.
Another great feature of the Blitzart Hurricane Electric Longboard is that it comes fully assembled and ready to ride straight out of the box, saving riders the time and hassle of assembly. The company, located in California, is inspired by the surf and longboard lifestyle and strives to bring that freeform feeling to its products through high-quality designs and comfort. Start your electric skateboarding journey today with the Blitzart Hurricane Electric Longboard.
Check Price
Product Overview:
The BLITZART Huracane 38" Dual Brushless Hub-Motor Electric Skateboard Longboard is a top-of-the-line electric skateboard that offers a range of impressive features. This skateboard boasts a top speed of up to 23 MPH and a maximum range of 10 miles on a single charge, thanks to its dual brushless hub motors and secured 36V lithium-ion battery pack. The board can be fully charged within 3 hours and the wireless remote controls acceleration and deceleration, with reverse capability and two-speed modes for both beginner and advanced riders.
The deck of the Huracane electric skateboard is made up of an 8-layer combination of 6-ply maple wood and bamboo, giving it both flexibility and sturdiness. The deck also features premium grip tape and is concaved to keep the rider's feet firmly in place. The skateboard supports a maximum weight of 250 lbs. and is equipped with 3.5" wheels and a 700W brushless hub motor, which is more reliable and less problematic than belt-driven motors.
The Huracane electric skateboard ships fully assembled, and ready for use right out of the box. The ergonomic wireless remote is easy to hold, rechargeable, and comes with a wrist strap to prevent drops. The hub motor is much quieter than belt-driven motors and the board can be kicked like a regular skateboard even without power.
Check Price
Product Overview:
The RazorX Cruiser is an electrifying electric skateboard that gives riders an exciting and dynamic ride. It features a 125-watt, geared, the rear-wheel-drive motor that is kick-to-start and provides smooth and responsive motion at speeds up to 10 mph for up to 40 minutes of continuous use. The motor is virtually maintenance-free, and it delivers power without any alignment issues, chains, or belts. The deck of the skateboard is made of high-quality 5-ply maple and is 29.7 inches long, making it lightweight and responsive for cruising.
The skateboard also includes a wireless, digital, hand-held remote with a wrist strap that is replaceable. This remote allows riders to control the speed of the skateboard, increasing or decreasing the speed at any time by pushing forward or pulling back on the control stick. The skateboard also features high-grip urethane wheels and custom reverse kingpin trucks for enhanced stability, as well as perforated grip tape for added grip and control.
The RazorX Cruiser is recommended for riders ages 9 and older and can support a rider up to 220 pounds. With its electrifying kick and versatile features, this skateboard is perfect for cruising, carving, and turning. The wireless remote puts the power of the kick-to-start motor in the palm of your hand, giving you complete control over the electrifying carve-and-turn action. So if you're looking for an exciting and dynamic ride, the RazorX Cruiser is the perfect choice for you.
Check Price
Product Overview:
The Teamgee H5 37" Electric Skateboard is a cutting-edge e-skateboard that combines style, power, and performance. This electric skateboard features a 37-inch longboard and 8.7 inches wide, making it ideal for riders of different heights and sizes.
Weighing only 14.5 pounds, it's lightweight and portable and can support a maximum load of 200 pounds. The deck of the electric skateboard is made of 10-layer Canadian Maple Wood, which provides medium flex for a smooth ride and can carry a weight of up to 220 pounds.
The Teamgee electric skateboard is powered by high-performance 760W dual motors, which give it a top speed of 22 MPH and a range of up to 11 miles on a single charge. The remote control of this electric skateboard is equipped with an LCD screen,
Check Price
Product Overview:
The Caroma Electric Skateboard is a high-performance electric longboard designed for adults. It features a dual brushless hub motor that delivers 700W of power and can reach a maximum speed of 18.6 MPH. The motor is smooth and quiet, allowing for an enjoyable and effortless ride. The skateboard is equipped with a 29.4V 4000 mAh lithium-ion battery that can be fully charged in just 3 hours and provides a range of 10-12 miles, perfect for short commutes, cruising on campus, and quick errands.
The Caroma Electric Skateboard comes with an ergonomic wireless remote control that has 3 LED power indicators and 3 level speed settings. The remote control displays forward, backward, accelerate, and brake functions and can control the skateboard from up to 14m away.
The deck of the skateboard is made of 8 layers of rock hard maple that is both durable and flexible. It is 36 inches long, 9 inches wide, and weighs 12.5 lbs, and can hold a maximum load of 220 lbs. The deck can withstand all kinds of collisions without deformation. The skateboard is also equipped with 8.3cm high-grip PU wheels that provide a smooth and comfortable ride.
Check Price
Product Overview:
The Hiboy S11 Electric Skateboard is a fun and playful option for beginner and youth riders, suitable for commuting around town or school. With its upgraded 25V 4Ah Lithium Battery, the skateboard has a range of up to 9 miles on a single charge and is powered by a 350W brushless motor, allowing riders to reach a top speed of 12.4mph. The skateboard is made of 7-layer Canadian A-grade maple and weighs only 8 pounds while being able to support a weight capacity of 220 pounds.
The Hiboy S11 features a non-slip and waterproof graffiti surface design, making it easy and comfortable to ride. The skateboard comes with an ergonomic and rechargeable wireless remote control, allowing riders to control speed and brake with ease. It offers 4 riding modes and 4 brake modes, providing a personalized experience for each rider. The skateboard's large 70mm diameter wheels can smoothly glide over cracks and rough terrain, while its 2.4G quick response remote allows for quick acceleration or braking.
The skateboard's aluminum alloy truck is cast through a die-casting process and is made of medium carbon steel, providing additional strength and stability. With its powerful motor and torque, the skateboard can easily conquer hills and slopes up to 15°. The silent motor provides a smooth and quiet ride, allowing riders to enjoy their commute without disturbing others.
Check Price
How TO Choose The Best Electric Skateboard For Carving | Ultimate Guide 2023
Below you will find the basic criteria that you should evaluate before buying an electric skateboard to choose the one that best suits your needs.
Longboard vs skateboard cruiser
What better way to buy a cruiser-style longboard or electric skateboard? We don't have a one-size-fits-all answer, as choosing the perfect skateboard depends on your personal needs and tastes when it comes to gliding around town.
Electric longboards
Electric longboards have a longer (1-1.5 m) and wider (4 cm longer) deck than that electric skateboards. Furthermore, the board is usually closer to the ground to lower the center of gravity, providing greater stability and therefore safety on descents. They also usually have bigger wheels compared to electric skateboards, which guarantee not only greater stability and handling in the irregularities of the road surface but also greater speed in driving.
On the other hand, its size and weight make it less suitable for skateboard jumps and stunts, but it gives it smoother handling, making it an ideal electric skateboard for those who enjoy a more relaxed style of riding. On the other hand, you need more turning angle than cruiser-style skates, due to its size and lack of kick-tail, making sharp turns a very tricky maneuver. Longboards are commonly used for practicing cruising (gliding around town), doing tricks, dancing on the longboard, or for a more radical style like the speeding and skidding tracks.
Currently, the advantage that some electric longboards offer compared to skateboards is that they incorporate a technology that allows you to manage the longboard there is no need to carry a remote control, as the indications to accelerate or brake will be transmitted to the electric skateboard with the pressure exerted by our feet on the feet sensor located on the back outside the board, offering a driving sensation and handling very similar to the traditional longboards but with a unique feel that provides the extra speed.
Cruiser electric skateboard
On the other hand, we have electric skateboards which usually have the same dimensions as traditional skateboards but incorporate a motor that gives us extra speed.
Currently, electric skateboard brands are opting for a surf skate design, with a raised tail (kicktail) which allows the back foot to be firmly positioned and facilitate its flexion in order to be able to exert the necessary force that some tricks and turns require. This feature allows us not only to have more stability but much more maneuverability to obtain shorter turning angles than an electric longboard.
About I don't know (front) we find two designs: one with a wider toe, which offers more comfort instead of the front foot, and the other board models that have a narrow and raised toe, imitating the classic surf skateboards. Cruiser-style skateboards are usually higher off the ground and have slightly smaller wheels than longboards. Electric scooters are designed for a more "nervous" ride with faster movements. Its size and weight make it a fairly portable urban mobility device, facilitating its transport to be able to enjoy skateboarding anywhere without causing any problems.
Engine, power, and speed
How fast do electric scooters reach? This is one of the most asked questions by those interested in this type of skateboard. This will depend a lot on the type of engine and its power. When it comes to engines, there are essentially two types:
The engine with brushes is the most common and cheapest.
The brushless or brushless motor, is more expensive than the previous one but on the contrary offers us more power, less consumption, and longer life all the same as having no brushes, friction is not generated, and therefore less wear is generated.
In the world of electric skateboards, we also find qualitative differences between models of different ranges. High-end electric skateboards usually come with two independent motors that transmit their power to a single wheel which is usually the rear wheel.
However, cheap electric skateboards usually come with a single motor, so it has to distribute its total power between two wheels, resulting in less acceleration and speed.
How many watts of power should I choose?
More watts means not only more top speed, but also more acceleration capability. which will be very useful on steep slopes. This acceleration will also give you more sensations as you can experiment on all types of tracks and terrains, making the overall experience more complete.
Autonomy and recharge time (Batteries)
When we talk about the autonomy of an electric skateboard we are referring to the number of kilometers we can travel with it until we run out of battery. To make a good choice you need to determine not only the average daily distance you will use the scooter but also the maximum distance without access to electricity.
Currently, on the market, the more autonomy an electric skateboard offers, the longer it will take to charge its battery and generally the heavier the skateboard will be, although the high-end models offer much above-average autonomy with reduced loading times and weight. You must take into account that the information offered by each manufacturer on the autonomy of the electric skateboard is for very specific conditions and these are usually the following:
Plains
Windless conditions and average ambient temperature
Driver weight approx. 70 kg Smooth floor without bumps
Driven at medium speed
So if you weigh more than 70 kg, your road has slopes or rough roads with bumps or you like to go to the limit of the maximum speed that your electric skateboard offers most of the time, We recommend that you always choose a skateboard that has more autonomy than you need a priori so that you don't run out of battery in the middle of the trip. As a general rule, keep in mind that lithium batteries give us more autonomy and weigh less.
Cruise Speed
If you intend to use the electric skateboard on a daily basis, we advise you to choose those that have predetermined cruising speeds and/or driving modes, as these characteristics will allow you not only to reduce driving fatigue and stress but also make the most of the range of the scooter maintaining a constant speed during the journey.
Most modern electric scooters include three default speeds: an eco that maximizes range by reducing speed, normal, and a sport/pro that provides more acceleration and speed.
Type of Wheels
The choice of wheels is something that many people usually do not take into account but it is essential in choosing the electric skateboard that best suits our needs.
Wheel Shape
On electric skateboards, you'll find two types of wheels, beveled and right-angle. The bevels have a rounded edge and therefore have less grip, this makes them perfect for those who like to slide, favoring tighter turns. However, they do not provide full speed and are therefore not designed to travel long distances.
Right-angle wheels are great for long runs as they provide more speed, however, drifts are a little more difficult to execute and you will need to apply more force and perfect your technique.
Wheel Hardness
The optimal wheel hardness will depend on what you are looking for in your electric skateboard.
Some Più forte wheels will provide more speed and less grip, making it easier to skid but making the ride a little more dangerous for beginners. On the other hand, being harder, it has less wear and therefore a longer life. Some softer wheels will give you more traction and grip in exchange for less speed.
Maximum Weight Supported
You might be tempted to buy a kids/teenage electric skateboard for its cheap prices if you are a lightweight adult, but rest assured that it is the worst decision you can make. You must keep in mind that the maximum weight or load capacity is determined by:
The strength of materials
Strength of the tree
Wheels
battery
The engine
The battery power of electric skateboards designed for teenagers/children is lower, which means that even if the board supports your weight and you can play with it for a while, it will not cover your needs in terms of range, acceleration, or speed.
The batteries of electric skateboards for children are not made to support the weight of an adult, so their autonomy will be drastically reduced. That's why we recommend that you buy an electric skateboard that fits your weight/size as it will be more profitable in the long run.
FAQs
What Electric Skateboard Does Casey Neistat Ride?
Are Electric Skateboards Worth It?
Bottom line: electric skateboards are definitely worth considering if you are looking for a fun and convenient way to get around. They are environmentally friendly, easy to use, and can be a great workout if you choose the right model.
Are Electric Skateboards Dangerous?
Using electric skateboards is no different from using other modern equipment. Sure, it requires special skills and common sense to use, but once you learn about it, it is not as dangerous as other activities.
Is An Electric Skateboard Good Exercise?
Using an electric skateboard is decent exercise. Standing on a longboard for an hour can burn up to 100 calories. Therefore, riding an electric skateboard for about an hour can burn between 50 and 100 kilocalories, depending on your reason, sense of balance, and use of your upper body.
How An Electric Skateboard Works
A battery sends power to the motor, which in turn turns the wheels to propel the board forward. The skateboard can be controlled for speed and direction by tilting the board back and forth or by using a remote control.
Can electric skateboards get wet?
Most electric skateboards are not waterproof, but some are. Waterproofing means that water cannot easily enter the electric skateboard. Therefore, the board should not break while riding on wet surfaces.
Conclusion
We hope you enjoyed our article about the best electric skateboards for carving. The truth is, you want the best board for your needs. Whether you want a board for commuting or for cruising around campus, there are several to choose from. We hope that you find the one that is best for you.